Weather in Sevastopol:


Loadding weather...
HOTEL DESCRIPTION:
Rating:



Address: Sevastopol Drevnyaya Street 34
Total number of rooms: 16
Rooms:
Photos
| | |
| --- | --- |
| Hotel Exterior | Hotel Surroundings |
| Hotel Surroundings | Swimming Pool |
| Restaurant | Restaurant |
About hotel Khersones Apartments Hotel
Room Facilities

Air Conditioning

Bath

Fan

Mini-bar

Refrigerator

Balcony / terrace

Tea/Coffee Maker

Hairdryer

Table

Cable / satellite TV

Bathrobes

Shower

DVD / CD player

In-room safe

TV
Facilities

24 hour service

Restaurant

Cafe

Elevator

Transfer to the hotel / airport

Wi-Fi

Nurse

Business Center

Concierge

Pets allowed

Room Service

Shops

Disabled Facilities

Safe

Laundry

Parking
Internet

Internet in the room

Wi-Fi Internet

Wi-Fi Internet Pay
Sports & Recreation

Indoor swimming pool

Outdoor swimming pool

Sauna

Gym

Massage

Private beach

Kids Club

SPA
More
The hotel complex is located in one of the most prestigious and picturesque Sevastopol districts, near the sea and the Historic and Archeological Reserve 'Tauric Chersonesos'.
Hotel's rooms are spacious apartments with large terraces. Each room is exclusive and has its own name. The rooms have high-speed Wi-Fi access, satellite TV, CD/DVD-player. Fully fitted kitchens are offered in two- and three-bedroom apartments: washing machine, electric oven, kitchen extractor fan, kettle, kitchen utensils. Each room has separate entrance.
Hotel's restaurant offers various dishes from Ukrainian and Italian cuisine. Fresh Black Sea and Mediterranean fish is always on the list. Good hookah list, cigars, and elite alcohols are at connoisseurs' disposal. Conference hall is available for business events. It is carried out in Roman forum style and fitted with modern equipment.
Hotel's guests have an opportunity to rest and relax in real sauna, fitted with steam room, shower, dressing room, spacious recreation room, swimming pool. There is a BBQ place near the sauna. The hotel features children's playground and private parking, too.
You may order a shuttle service to Sevastopol's central railway station at the hotel.
More hotels in Sevastopol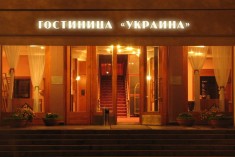 price from USD3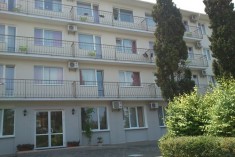 Hotel Complex 'Pesochnaya Bukhta'



price from USD63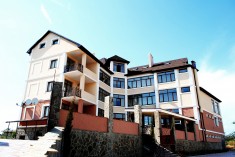 price from USD71